Fashion
12 Gorgeous Wedding Hairstyles for Women
Greetings, lovely ladies! I'm sure you're getting butterflies in your stomach after reading this title, right?
Every girl has dreamed of her wedding day since she was young, and she has many expectations for this particular day. Everything must be flawless on this day since it should be one of the most remarkable days of her life. However, you should be aware that a lovely lehenga and flawless makeup are insufficient to complete your look; your wedding hairstyle is the determining component of your whole appearance. 
These days, bridal hairstyles aren't just about making a bun and decorating it with flowers but they reflect your style and personality. And we understand that you must be quite busy planning everything for your big day, but don't worry because we have a one-stop solution for your problem. 
Regardless of the length of your hair, we will ensure that you have the appropriate hairstyle to enhance your appearance. And, for your convenience, we've divided the blog into two sections: hairstyles for long hair and hairstyles for short hair.
So, are you ready to embark on this journey with us to decide on your wedding hairstyle? Without any waste of time, let's get started.
1. Loop waterfall braid hairstyle
This is a very elegant looking hairstyle that looks best on long, volume hair. You can wear this hairstyle with saree as well as lehenga choli. You can also use pearls instead of the floral braid to create a rich look. So, if you want to show off your long hair at your wedding, this could be a good match for you.
2. Half up semi-natural curls hairstyle
This is a lovely half-up hairstyle with open natural curls. It looks great with both a lehenga-choli as well as a gown. If you can't decide between straight hair and full curls, this is a good option. So flaunt your open hair with semi-natural curls. Both pearls and floral styling can be used here.

3. Voguish ponytail hairstyle
This is a stunning and opulent hairstyle. It is a voguish ponytail with a bun half up. It can complement your lovely wedding gown perfectly. If you don't want your open hair to bother you and want to enjoy the function in complete comfort while still looking stylish, this can be a good option for you.
4. Twisted bridal bun
This is a beautiful and stylish bun with twists and floral decoration. If you want a traditional bun with a fancy twist, this could be one of the themes for your ideal look. The good thing about this look is that it goes well with both your lehenga and gown, so if you're looking for something similar, congratulations, you've found it.
5. Low braided side bun
Isn't it cool to have beautiful braids in a bun? So, if you're stuck between braids and buns, they've got you covered with one of the best combinations. This is very distinctive and stylish. It will make your lehenga look more precious, so are you ready to experiment with this new hairstyle and look like the most beautiful woman in the world? 
6. Half-tie hairstyle with a middle rose bun 
What if you want to wear a bun as well as open hair? We have the perfect solution for you: a half-up bun hairstyle with a small cute rose bun in the middle and large curls decorated with pearls and flower decoration. Isn't it enticing and satisfying? So, would you like to try this unusual hairstyle fusion?
7. Messy crown braid bun hairstyle
It's a small loose crown braided bun with a messy look; as previously stated, your hairstyle defines you; therefore, if you're an independent and confident lady who makes her own decisions, this hairstyle is ideal for you, and you can accessories it with flowers and pearls. So, with your short hair, are you ready for this fantastic look?
8. French twist bun hairstyle
If you feel that bun looks great with your wedding gown and your short hair is getting in the way, don't worry, we've got you covered with these highly stylish and trendy French buns that will give your wedding appearance a purely elegant appeal. Also, don't forget to add some flowers or pearls to the mix.
9. Half tie with braid hairstyle
Don't you think this hairstyle is adorable, and it looks much better with short hair? So this is half up with a crown braid with wavy curls and adorning with flower makes it even lovelier, so if you're seeking a semi wavy curls hairstyle, this is the one for you.
10. Half tied wavy hairstyle
Do you want to try something different from buns and bread? Then this is for you: lightly curled hair with a rose tie in the center. So, do you believe this is the one you'll wear with your wedding gown on your big day? You can adore it with pearls for a stunning appearance.
11. Bob hair with curled ended
This is a really attractive and edgy hairstyle with curled ends that creates a simple but gorgeous look. If you want to try something simple and classy with your gown, this is the hairstyle for you.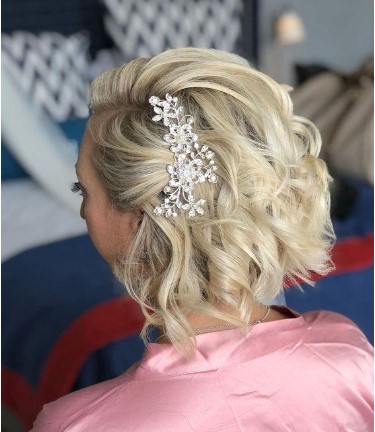 12. Simple wavy curls
Do we have to have big hairstyles during our weddings? If you feel the same way and want to show off your easy style, style your hair with curls and go flaunt your fashion. You can decorate using pearls and flowers.
So that concludes today's blog; hope it has been helpful in determining your wedding hairstyle. Good bye!